Whatis UI/UX design?
User Experience (UX) design is the process of outlining a platform to ensure ease of accessibility and usability for the customer. This is done by assessing the needs and experience of the customers through extensive research and testing. It focuses on ensuring the customer can satisfactorily browse through the website or app without any confusion or difficulty.
User Interface (UI) design is the process of developing a platform that is attractive and aesthetically appealing to the potential customer. These designs are built based on the outlines provided through UX design. It focuses on incorporating and integrating different colours, fonts, buttons, graphics, and animation in the website or app design.
UX and UI design together aim to develop a platform that customers find appealing and easy to use. Both these designs may be created by the same person, different people, or a team ofindividuals.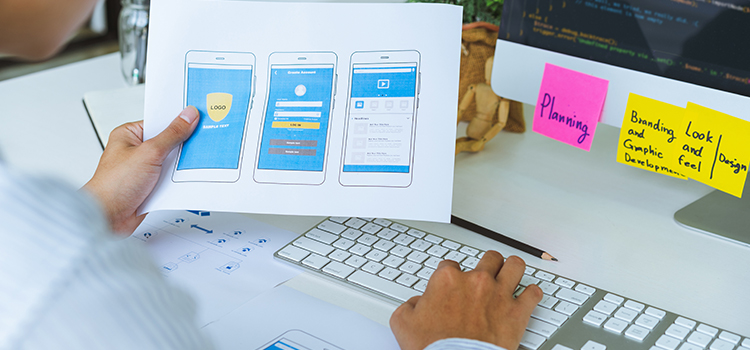 What do UI/UX designers do?
User Experience (UX) designers are responsible for the following-
Researching the target users
Developing a wireframe of the platform based on the preferencesof the target users
Running usability tests to understand the ease of access and interaction of the user with the developed platform
Identifying and outlining any modifications needed for the final product
Ensuring the user has a successful and satisfying experience of using the platform
Outlining a UX design balancing the needs of the users, expectations of the business, and functionality of the platform
Coordinating with Ul designer to develop the final product
User Interface (UI) designers are responsible for the following-
Adding visual details to the wireframe developed by the UX designer
Selecting the colours, fonts, shapes, icons, types of buttons, etc., to be used
Outlining and finalizing the text and images to be used
Using different tools to develop the UI design
Revising and reworking the UI design based on the feedback received from the UX designers
Coordinating with other designers and developersto finalize the product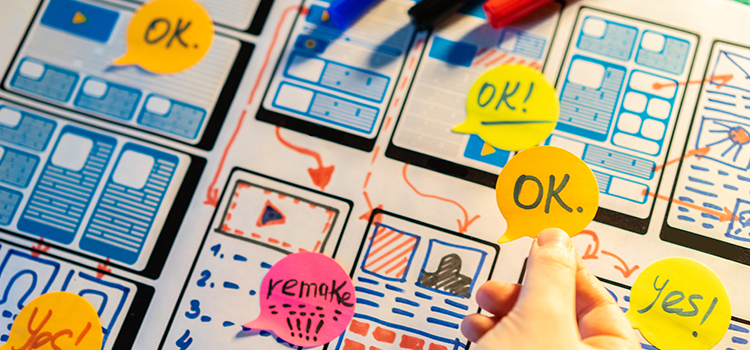 Whyis UI/UX important to a website or a business?
Creating a Brand Image
As a user, the first thing you do when you hear about something newis to search on Google. Only if you find a relevant website or web source do you have the opportunity to explore and understand the new service, product, or organization. Further, there are numerous online sources, so the next step is to ensure yours stands out. This can be done with UI/UX design! You can ensure that the users can connect and resonate with your companyor brand by designing the platform accordingly.
Increasing User Base
The reason is simple-the more online reach, the more the users. If you have an online platform that is easy to use and eye-catching for your users, they will increase manifold. This will ensure that your organization gets around well in circles and reaches many more intended users. Moreover, online links are easier to share and promote, and engaging ones are morelikely to be shared and promoted!
Encouraging User Action
Once a user enters your online platform, the next step is to convert it into a profitable outcome for your business. This can be done byplacing appropriate calls to action messages, promotions, and notifications on the platform. The design and functionality of the platform will further decide if the user can interact and respond to these messages. Thereby, if your platform's UI/UX design is good, you are morelikely to get a conversion or have a new customer!
Promoting CustomerLoyalty
If you need to rope in your user to interact and engage more with your business, a well-designed virtual platform can help you do that. The UI/UX designers can design subscription or sign-up pages to enable customersto havefull access to the website or remain updated with the latest ongoings of the business. This allows you to collect a potential mailing list or email database of your potential customers. You can use this information to regularly interact with the customers and improve their loyalty to your brand or business.
Educational requirements/qualifications
There is no specific course designed specifically for the field of UI/UX design. However, you can pursue an undergraduate degree in design, computer science, media science, or liberal science to have a better hold in this field.
The more important requirement to become a UI/UX designer is to develop adequateskills in the tools used in this profession. You can take up short-term or online courses in software like InDesign, Adobe Photoshop,Corel Draw, and programming languages such as Java, CSS, HTML, XML.
Institutes that offer related courses
National Institute of Design (NID), Anmedabad & Bengaluru
National Institute of Fashion Technology (NIFT), multiple locations
Pearl Academy, multiple locations
MAEER'S MIT Institute of Design, Pune
Indian School of Design and Innovation (ISDI), Mumbai
GD Goenka University, Haryana
Srishti School of Art Design and Technology, Bengaluru
Indian Institute of Technology, Guwahati
Amity School of Fine Arts, Noida
Banaras Hindu University, Varanasi
Important skills required
Creativity
Attention to detail
Motivation to create unique user-friendly products
Interest to constantly learn and update oneself
Basic programming skills (preferable)
Business skills
Visualization skills
Analytical skills
Aesthetic skills
Ability to work well in a team
Ability to receive feedback and improve
Ability to effectively use tools for wireframing and graphic design
Different types of Job roles/Career Prospects
User Researcher
Wireframe Expert
ContentStrategist
UX/UI Developer (Involves coding like HTML, CSS, Javascript, etc.)
Information Architecture (UX Designer)
Visual Designer (UI Designer)
Interaction Designer
Product Designer
Usability Tester
UX Design Manager
Top Recruiting Companiesin India
Lollypop Design Studio, Bengaluru
ScreenRoot, Bengaluru
Yellow Slice, Bengaluru
Prismic Reflections, Nashik
Koru Technologies, Pune
The AntiAlias, New Delhi
Lazy Eight, New Delhi
Sparklin Innovations, New Delhi
17 Seven, Mumbai
F1Studioz, Bengaluru, Hyderabad, Mumbai
We hope you now have a clear and comprehensive idea about a career in UI/UX design in India. However,if you still have any doubts about this topic, you can drop your career-related query at support@margforyou.com, and we will help you out!
Sruthi Suresh
Back
Find out what career suits you
Latest Blogs